The fans are to blame for the reduced capacity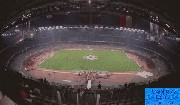 Click on the pictures to see them in full size.
---
Juventus plan to rebuild the Delle Alpi stadium and many Juventus fans have complained about the fact that the capacity will be heavily reduced. The Juventus directors want the stadium sold out for every match, and they have the statistics on their side when they have decided for this heavily reduced capacity. The sad fact is that Juventus only have around 30 000 spectators for the majority of their Serie A home games each year. The average attendance has dropped every year in the last six seasons. From a good average attendance of 47 000 in the 1997-1998 season to a very poor average attendance of 35 000 in the 2003-2004 season. In the last three succesful seasons when Juventus were crowned Italian champions two times, the Delle Alpi Stadium was sold out only for three games. When you watch Juventus games in TV you always see thousands of empty seats. Therefore it is not difficult to understand that the Juventus board want to reduce the capacity from 69 000 to a more fitting capacity.

So how come doesn't the most popular club in Italy with over 11 million fans in the country manage to get more spectators to their home games? The Turin population are known to be cold, demanding and not easy to satisfy. In the 1994-95 season Juventus played two UEFA cup games against Borussia Dortmund and Parma in Milano, and the stadium was sold out both times, 85 000 spectators were present. Had those games been played in Turin not more than 40-50 000 spectators would have gone to the games. Juventus have also played two official games in Palermo in front of a sold out stadium, and one time in Bologna also in front of a sold out stadium. Another well known fact is that almost every away game Juventus play in the Serie A is sold out, and Juventus enjoy a huge support in their away games in Italy.





The San Siro stadium in Milano was sold out for both games Juventus played there in the 1994-95 season.



When I spoke to the owner of one of the shops in Turin who sell tickets for the Juventus games, he told me that he rarely sell tickets to people coming from Turin. Almost all the tickets he sell goes to people from other Italian cities and foreign fans. Another thing that has to be mentioned is that to each home game Juventus play, statistically almost 50% of the fans come from outside of Turin to watch the game. Switzerland and France are always well represented, and thousands of fans travel from Milano and the other Northern Italian cities every week to watch Juventus. Regions like Lombardia, Veneto, Emilia Romagna, Liguria, Marche and Sicilia always contribute with many fans. Juventus have huge support in Milano and the fans living there would like Juventus to move away from Turin. They mean that Juventus would fill up their stadium if they moved closer to Milano, for example to Novara. And they always argue with the Juventus fans from Turin about why they have to come to Turin to see the games, when instead the fans from Turin could come to Milano where Juventus enjoy a bigger support.

It is very strange that Juventus doesn't manage to fill up their stadium coming from a big city like Turin with 900 000 innhabitants. To the big and important games when the spectators present rise to around 50-55 000, the majority of the extra spectators come from other Italian cities and from other countries to watch the games.

Many reasons have been given to explain the poor spectator numbers on the Juventus games. The Delle Alpi stadium is one. The stadium is very unpopular because it is placed on the outskirts of Turin, and the spectators are divided from the picth by a huge and useless athletics pitch. The visibility is poor from the stands and the fans are very distant from the players. The athletic pitch will be removed and the stadium will have a more intimate atmosphere when the new stadium is ready in 2007.





Bad weather and poor pitch conditions is not unusual in Turin.
This picture is taken before a Champions League game against Basel.



Another important reason is that the Turin population is known to be cold and not very passionate. The teams from Roma and Milano have a much bigger attendance, but the two cities are also bigger than Turin. The economic situation in Turin is not good and big factories like Fiat have huge problems. The population has also decreased in the last years. The high costs of season tickets and regular tickets to the stadium keeps people away from the stadium, and many fans prefer to watch the games on Pay-TV instead. Both Juventus and Torino have suffered a sharpe decline in season tickets and in their average attendance in the last years. Torino F.C only sold 7 820 season tickets last season and had an average attendance of 11 087. Both clubs expect to have fewer season ticket holders and a new drop in the average attendance also in the 2004-2005 season. The only logical solution for the two clubs remains to drop the costs of the tickets in order to bring more people to the stadium. That a famous and strong club like Juventus has such a low average attendance is a real shame. In the 2004-2005 season Juventus have repeatedly dropped the ticket prices, but it still hasn't helped. The average attendance is still much lower than in the 2003-2004 season.

Despite the myth, recent figures show that more people in Turin support Juventus than Torino F.C. The difference is that Juventus fans are often Italian and non-Italian immigrants to Turin, while the long-established Torinese tend to support Torino. Torino F.C who is the most popular team among the regular Torinese, now only have an average attendance of about 11 000 in their home games. And unlike Juventus, Torino F.C don't have fans who come from outside the city to watch their games. This clearly shows that very few football fans in Turin go to the stadium and the Turin derby is rarely sold out. The last Turin derby which was played in the 2002-2003 season only had 19 000 spectators!



Here are the number of season tickets sold by Juventus since 1985:


| | | |
| --- | --- | --- |
| Season: | Season tickets sold: | Difference from previous season: |
| 1985-86 | 14 164 | |
| 1986-87 | 14 947 | + 783 |
| 1987-88 | 13 852 | - 1095 |
| 1988-89 | 16 689 | + 2837 |
| 1989-90 | 14 484 | - 2205 |
| 1990-91 | 25 973 | + 11 489 (First season at the Stadio Delle Alpi) |
| 1991-92 | 36 384 | + 10 411 |
| 1992-93 | 37 406 | + 1022 |
| 1993-94 | 33 227 | - 4179 |
| 1994-95 | 33 122 | - 105 |
| 1995-96 | 35 839 | + 2717 |
| 1996-97 | 28 178 | - 7661 |
| 1997-98 | 40 338 | + 12 160 |
| 1998-99 | 43 533 | + 3195 |
| 1999-00 | 34 284 | - 9249 |
| 2000-01 | 35 446 | + 1162 |
| 2001-02 | 35 703 | + 257 |
| 2002-03 | 33 343 | - 2360 |
| 2003-04 | 28 531 | - 4813 |
| 2004-05 | 17 212 | - 11 319 |
| 2005-06 | 23 039 | + 5827 |
| 2006-07 | 12 840 | - 10 199 |

Juventus beat their all time record when they sold over 43 000 season tickets in the 1998-99 season. The fans were deligthed by the excellent and succesful 1997-98 season, and bought season tickets like never before. The season after the number suffered a sharpe decline, and in the following four seasons Juventus sold an average of 35 000 season tickets. A strange fact is that only 28 000 fans bought season tickets in the 2003-2004 season, specially since Juventus were crowned Italian champions two times in a row. This should have waked the enthusiasm of the fans, instead the number suffered a decline of almost 5 000 season tickets from the previous season. The number of season ticket holders has suffered another sharp decline in the 2004-2005 season. Only 17 000 Juventus fans bought a season ticket even if great players were bought by the club in the summer of 2004. The scaring tendency in Turin now is that in the last seasons almost only season ticket holders go to the games. Juventus rarely sell more than 2 000 tickets for a regular home game. It is only for the big matches that travelers to Turin contribute to rising the spectator numbers.



Here is the average attendance of Juventus since 1969:


| | | |
| --- | --- | --- |
| Season: | Average attendance: | Difference from previous season: |
| 1969-70 | 37 366 | |
| 1970-71 | 35 415 | |
| 1971-72 | 45 667 | |
| 1972-73 | 42 813 | |
| 1973-74 | 43 916 | |
| 1974-75 | 41 820 | |
| 1975-76 | 37 099 | |
| 1976-77 | 41 892 | |
| 1977-78 | 40 472 | |
| 1978-79 | 35 410 | |
| 1979-80 | 31 144 | |
| 1980-81 | 33 929 | |
| 1981-82 | 37 500 | |
| 1982-83 | 41 877 | |
| 1983-84 | 43 574 | |
| 1984-85 | 41 271 | |
| 1985-86 | 39 654 | |
| 1986-87 | 35 555 | |
| 1987-88 | 33 082 | |
| 1988-89 | 30 350 | |
| 1989-90 | 29 627 | |
| 1990-91 | 43 114 | + 9536 (First season at the Stadio Delle Alpi) |
| 1991-92 | 51 832 | + 8718 |
| 1992-93 | 45 869 | - 5963 |
| 1993-94 | 44 521 | - 1348 |
| 1994-95 | 47 866 | + 3345 |
| 1995-96 | 42 060 | - 5806 |
| 1996-97 | 39 272 | - 2788 |
| 1997-98 | 47 348 | + 8076 |
| 1998-99 | 47 168 | - 180 |
| 1999-00 | 42 127 | - 5041 |
| 2000-01 | 41 307 | - 820 |
| 2001-02 | 40 658 | - 649 |
| 2002-03 | 39 772 | - 886 |
| 2003-04 | 34 980 | - 4792 |
| 2004-05 | 26 429 | - 8551 |
| 2005-06 | 30 452 | + 4023 |
| 2006-07 | 18 085 | - 12 367 (Serie B, Stadio Olimpico) |

The average attendance of Juventus has dropped every season in the last 6 years, a scaring tendency. While the average attendance was 47 000 in the 1997-98 and 1998-99 seasons, the average attendance has dropped to 35 000 in the 2003-2004 season. Juventus didn't have more than 31 000 spectators for the majority of their home games last season, but the number of spectators in the big matches contribute to rise the average attendance. So when we see that the average attendance of last season was only 35 000, then we can also understand that the Juventus directors do not want to build a stadium with a bigger capacity than 42 000.

The only problem is that it will be more difficult for fans from abroad and other Italian cities to get tickets for the games, since almost only season ticket holders will get seats in the new stadium. It is the Juventus fans in Turin who are to blame for the reduced capacity, not the Juventus directors. Had 60 000 fans gone to see Juventus every game, then Juventus would have built a new stadium with a 60 000 capacity.

If we look at the figures for the spectators in the Champions League and Coppa Italia then the figures get horrible. The worst example was the second group stage of the Champions League 2001-2002, Juventus had 4 000 spectators against Bayer Leverkusen, 17 000 spectators against Deportivo La Coruna and 7 000 spectators against Arsenal! These numbers are a disgrace and a scandal. In the Coppa Italia 2001-2002, Juventus beat their all time negative record when only 239 spectators watched the home game against Sampdoria. In the 2002-2003 season only 400 watched the game against Reggina and 800 watched the game against Perugia! In the 2003-2004 Champions League Juventus had an average attendance of 17 000 spectators in their four home games. The average attendance at home in the Coppa Italia last season was also only 17 000 spectators.



Average attendance and average season tickets of the 5 biggest clubs + Torino in the last 6 seasons (1998-2004)


| | | |
| --- | --- | --- |
| Squad: | Average attendance: | Average season tickets sold: |
| Inter | 58 743 | 48 884 |
| Milan | 55 523 | 45 597 |
| Roma | 52 282 | 40 803 |
| Lazio | 45 574 | 34 007 |
| Juventus | 39 445 | 35 179 |
| Torino | 17 692 | 10 848 |

Many people like me who live a long way from Turin, get angered by the fact that the innhabitants of Turin don't watch the Juventus games. While I and thousands of other fans spend huge sums of money to travel from abroad to see our team, the innhabitants of Turin think they are real fans watching the games on the TV. Many Juventus fans have said that it is a pitty that Juventus come from Turin and not another city, and that it is a disgrace that the Turin innhabitants don't show their team more support. Juventus is the most popular team in Italy, but Milan, Inter, Roma and Lazio have much more spectators on their home games.

In the last 5 years the Juventus directors have often threatened to leave Turin in anger over the stadium problem, but after my opinion it has also been in anger for the poor support and attendance in their own city. As i mentioned before, in every city Juventus play the stadium is almost always sold out, except for Turin. Therefore the Juventus directors also took in consideration a few years ago to become a globetrotter team playing their home games in many different Italian cities. For example the Italian Supercup final between Juventus and Parma two seasons ago, was rescheduled from Turin to Tripoli in Libya to have a bigger number of spectators. Last seasons Italian Supercup final between Juventus and Milan was played in New York.

Juventus enjoy the best support of all Italian teams when they play away in the Serie A. It has to be said that only few supporters from Turin travel to the away games in the Serie A. The reason for the massive support when they play away are the more than 1000 Juventus Clubs all over Italy. These clubs are good at organizing away trips. To the away games in the Serie A no more than a few hundred travel from Turin, while many thousands come from all over Italy. Unfortunately few Juventus supporters travel abroad to see Juventus in their away games in the Champions League.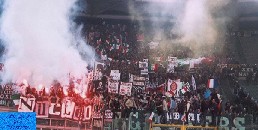 Juventus enjoy huge support when they play away in the Serie A.
This picture is taken in Rome in 2002.



A thing that has to be said after so much frustration over the Turin population, is that the fans who go to the games do a fantastic job and give their team great support. The supportergroup Fighters is considered to be one of the best supportergroups in Italy, and they create a good atmosphere in the stadium. Watching a Juventus game in Turin is a fantastic experience, and is highly recommended. The problem is that the stadium is almost always half empty.

My opinion is that Juventus should build the new Delle Alpi stadium with a capacity of 50 000 spectators. This way the stadium will have a capacity worthy of a big club like Juventus, and it will be possible for Juventus fans living abroad and in other Italian cities to get tickets for the game. The stadium will also not look so empty against the smaller teams. We have looked at an half empty stadium in almost every Juventus home game for 12 years now, it's time to fill up the stadium. I also think that a new and popular stadium in Turin will bring more people to the games. Juventus supporters all over the world started a petition last summer against the reduced capacity on the new Delle Alpi stadium, but when the season ticket holders and the average attendance have declined another time the Juventus directors have proven they are right.

When clubs all over the World build new stadiums the season ticket holders and the average attendance always rise in the first seasons. When Juventus moved from the Stadio Comunale to the Stadio Delle Alpi in 1990, the season ticket holders rose by more than 11 000 in the first season. The average attendance rose with more than 9 000. In the second season of the Stadio Delle Alpi, the season ticket holders had increased by 21 000 persons from the 1989-90 season at the Stadio Comunale. In the same period the average attendance had increased with 18 000 spectators. The scaring thing when Juventus now build their new stadium, is that the Juventus directors won't allow this well known attendance boom effect as the capacity could be smaller than their current average attendance. I think that if the new stadium looks nice, is intimate, the prices aren't too high and the visibility of the game is good, then Juventus could have increased their average attendance dramatically in the years to come.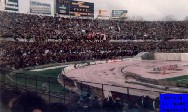 The visibility was also poor at the old Stadio Comunale.
The situation worsened in the 2004-2005 season
In the 2004-2005 season the attendance problem for Juventus worsened. Juventus have many spectators in front of the Television screens, but very few at the Delle Alpi stadium. Most of the Serie A teams have gotten a lower average attendance in the last couple of years, but the situation is worst for Juventus. In the summer of 2004 Juventus lost 11 000 season ticket holders, from 28 000 in the 2003-2004 season to 17 000 this season. This is dramatic considering that Juventus bought several star players that summer, and considering that few years ago Juventus had more than 43 000 season ticket holders. Juventus has traditionally been the club in Italy that sell most season tickets after the Milano and Rome clubs. In the 2004-2005 season also Palermo, Messina, Fiorentina and Sampdoria sold more season tickets than Juventus, putting Juventus in 9th place of season tickets sold in the Serie A.

For the Juventus-Roma game in the 2004-2005 season Juventus only sold 8 000 tickets, 4 000 of them to the Roma supporters. The big game between Juventus and Bayern Munich was only seen by 18 000 spectators, while the two other group games againts Maccabi Tel Aviv and Ajax were only seen by 6 000 spectators. Even the big game againts Milan in December 2004 didn't sell out the stadium. 54 000 spectators were present for this game, and this was the first time in the 2004-2005 season that Juventus had more than 29 000 spectators. The Juventus directors tried to introduce mini-season tickets for the games against Roma-Chievo and Fiorentina, but also this project failed as only 1098 mini-season tickets were sold.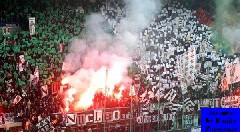 The Juventus fans in Milano gave massive support when Juventus played away against Inter in the 2004-2005 season.


In Oktober 2004 the Juventus directors surprised everyone by lowering their ticket prices and admitting that the prices had been too high. Tickets to see Juventus are indeed much more expensive than for example tickets to see Inter and Milan, and the Juventus fans have complained much about this fact. Therefore Juventus announced before the game agsinst Messina that month that they would lower the price of all tickets. Before they lowered the prices the cheapest ticket for Juventus-Messina was 25 Euros, after it was 20 Euros. But the Juventus fans dissapointed once again as even lower ticket prices didn't bring more spectators to the stadium. Only 29 000 spectators were present at the Delle Alpi stadium for this game between Juventus and Messina. And 8 000 of these spectators were Messina fans. Only 4 000 Juventus fans bought a ticket to this game, so the initiative was a huge failure.

In the game against Brescia in January 2005 the Juventus fans set a new negative record. It was in fact the first time since the Delle Alpi stadium opened in 1990 that a Juventus Serie A home game was seen by less than 20 000 spectators. Only 19 338 spectators were present for the game which was played on a sunny day and with Juventus topping the table.

Some journalists think that part of the cause for the worsened attenance crisis are the innovative methods used by the Juventus directors. From the 2004-2005 season the season tickets are named and the fans have to show their identy card to enter the stadium. While previuosly a group of friends or the many Juventus clubs bought season tickets together and shared them. The new methods of the directors now makes this method impossible. Juventus were also criticised for selling their season tickets over the internett and that the cheapest tickets for the Serie A home games cost 20 or 30 Euros. Former Juventus goalkeeper Michelangelo Rampulla has been given the task to lead Centro Juventus Club and to bring the fans back to the stadium. So far the popular Rampulla hasn't managed to do this. Many fans believe that the Juventus directors prefer to sell season tickets to SKY televison instead of selling them to the Delle Alpi stadium.It isn't a big surprise that Juventus is the team with most fans holding season tickets to SKY television.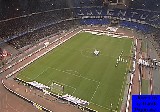 More than 54 000 spectators were present for the game between Juventus and Milan in December 2004.
The stadium looks spectacular when it is filled up.
2005-2006: Only 19 Euros for a season ticket
The sale of season tickets for 2005-2006 officially opened on the 18th of July with many surprises for the fans. First of all, prices were not any higher than last season's, the other way round they had been reduced. Juventus have made a really unique offer dedicated to female fans and to children under 13: in sections East 1, East 3, East 4 (level 1 and 3) and West 3, 7,500 season tickets have been reserved at the incredible price of 1€ per match, 19€ for the whole season. Also, heads of the family buying two discount tickets (for women or under 13) can buy their own ticket with a 50% reduction. And for those willing to live the emotional Champions League adventure, Juventus have reserved a mini season ticket package at a favourable price to attend the first three Champions League home matches. Juventus got the idea of the reduced prices after their succesful experiences selling tickets for 1 Euro for the games againts Parma and Cagliari last season. A family of three who last season had to pay 1500 Euros for their season tickets now only have to pay 288 Euros. Juventus hope that this special offer will bring the families back to the stadium as in England and Spain.


The five main reasons for the problem
The reasons for the low attendance at the Juventus home games are the following:

1. The Turin population are cold and not very passionate.
2. Statistically almost 50% of the fans come from outside of Turin to watch the game, few Juventus supporters in Turin go to the stadium.
3. The Delle Alpi stadium is very unpopular because it is placed on the outskirts of Turin, and the spectators are divided from the picth by a huge and useless athletics pitch. The visibility of the game and the players is very poor.
4. The economic situation in Turin is not good and big factories like Fiat have huge problems.
5. The high costs of season tickets and regular tickets to the stadium keeps people away from the stadium, and many fans prefer to watch the games on Pay-TV instead. In the 2004-2005 season Juventus have repeatedly dropped the ticket prices, but it still hasn't helped.


Only 4 800 spectators saw the Coppa Italia game between Juventus and Atalanta in January 2005.
Lower football interest in Italy
The football interest in Italy is decreasing every season. Lower attendances at the stadiums and fewer spectators in front of the TV are now a sad reality for Italian football. The once football crazy country is not longer so interested in football. Italian Serie A has almost always had an average attendance of over 30 000. And for many years Serie A was the most visited ligue in the world. In 1999 the average attendance dropped down to 29 000 and in 2001 it dropped down to 25 000. And since then the average attendance has been between 25 000 and 26 000. The Serie A has been relegated until fourth position on the table of the most visted ligues in the world. England, Spain and Germany now have a much bigger average attendance than Italy. Other examples of the decreasing football interest is that in the 1984-85 season, Serie A had an average attendance of 38 871 and in the 1991-92 season it was 34 205.

The same goes for the Italian Serie B who had an average attendance of 13 822 in the 1980-81 season. Then it stabilized around an average of 10 000 for many years, before it dropped down to 6 538 last season. So what are the reasons: 1. Old and ugly stadiums with poor visibility and poor facilities, 2. Too much violence before, under and after the games, 3. Too much focus in the press on the negative things in Italian football: Scandals, referees, penalties, violence, corruptions and the poor financial situation, 4. Lower football interest in the country.

For Juventus last season was terrible regarding the average attendance. Juventus have almost always had an average attendance of 35 000, but last season the average attendance dropped to 26 429. The lowest average attendance since the 1966-67 season. I love Italian football, but when people talk about football crazy Italy it just makes me laugh. Because when almost all ligues in Europe are experiencing a sharp rise in the average attendances, fewer and fewer people go to games in Italy. The first Serie A round in the 2004-2005 season had an average attendance of 26 000, the first round this season had an average attendance of 21 000.
Average attendance in Italy and Europe
Here is the average attendance in the Serie A from 1990 to 2003:

90/91 : 33255
91/92 : 34205
92/93 : 32607
93/94 : 29983
94/95 : 29154
95/96 : 29447
96/97 : 29481
97/98 : 31161
98/99 : 30840
99/00 : 29908
00/01 : 29441
01/02 : 25992
02/03 : 25474

Here is the top average attendances in Europe in the 2002-2003 season:

35464 England
34148 Germany
28932 Spain
25474 Italy
19676 France
16113 Holland
15573 Scottland
11643 Russia
10161 Sweden
10013 Belgium



From these two figures we can see that the average attendance has dropped in Italy the last four seasons. We can also see that while Italy in the past always had the top average attendance in Europe, they are now fourth behind England, Germany and Spain. A important reasons for the drop in the average attendance in Italy are the old and uncomfortable stadiums in the country. While English and German teams have build new and modern stadiums, Italian teams still have the old stadiums with running pitches and poor visibility.

I would like to hear your opinion on this matter, so send me your opinion via E-Mail and I will publish the best and most serious opinions under this article. Remember to write your name, city and country.

Send me your opinion on this subject
---
Here are the opinions of other Juventus fans
---
Alex Jordanov, France
Fan of Juve since Platini played, and living in Paris, it's sad to see what's going on in Turin with the stadium. I think they should remodel from scratch the Communale. It's in the city, with easy access. Because the most important thing is to bring back the locals to the matches. Make the Communale a comfortable, retractable roof, heated pitch, luxury boxes. Amsterdam Arena, or Shalke 04 style. 40 000 to 45 000 seats. That way it will not look empty, when 21 000 come to watch Empoli in a freezing February mid-week game. Always remind people, especially the locals, through ad campaigns, that they are looking at one of the top 5 greatest teams in football history. That no matter what year, they are usually impeccably coached and field a team of world class players. Always. Whether it's the Platini, Zoff, Boniek days, the Zidane, Henry, Deschamps days, the Baggio, Del Piero days or the Trezeguet, Nedved, Buffon, in Serie B days. There is always a Golden Ball, or a world champion wearing the stripes jersey.
---
Andrew Cecere, Australia
As a migrant originally from Italy and a mad Juve supporter, it is unacceptable that a club with the size and prestige of Juve can only muster crowds of only 26,000 to some of the more important games, and can only achieve full capacity to only 3 or 4 special games per season. I have analysed so many comments e-mailed from all over the world and its clear that Juve's main support base is outside Torino, therefore a reduction of the stadium capacity makes sense or a relocation of a new state of the art stadium would be preferable around the 50-55k. Whilst much of the problems are based around unfriendly viewing stadium or the location or its unique climatic factor of Torino, it appears to me that the club has not marketed itself in manner suitable to the clubs strengths. There are many clubs from all over the world who have poor facilities yet attract more impressive crowds. Juve should employ a heavy weight of the marketing world preferably outside of Italy which has no ties with the locals and put together a marketing strategy that will bring fans back, if they once attracted large crowds, what has changed over the past 10 or 15 years, rather than first spend billions of dollars to redevelop / rebuild or whatever and then find out the same problems still exist, analyse then act, remember prevention is better than cure.
---
Marco Vella, Malta
Whenever I notice that in a second division match in an other country, the attendance is over 15,000, and the stadium is full, and then I realise that we bianconeri nearly fill one third of the stadium...it is a shame. Napoli, playing in serie C, have more interested supporters and bigger attendances. I think we shall either restore the Delle Alpi and make it without the Athlethic pitch, or build an other stadium in a better site and thus fill the stadium with 60,000 suporters. I think it is a shame that tickets are expensive, because the Torinese are not rich people. I think a solution would be of having a project of Juventus promotion in Turin and the nearby cities, to let people love footbal and to set lower ticket prices. Another solution would be to change the team and to offer spectacular football. We have to purchase players of quality like Messi, Riquelme, Joaquin and make our football more elegant.
---
Massimo Vassalle, USA
Every person who responded to your website has a good point in favour or against the new stadium. The bottom line is net operating profit for any business. Juventus has decided to reduce their stadium capacity to 42,000 and in my opinion this is the correct way to go. Juventus will have a new state of the art stadium with the seats close to the pitch. Good move. However, they have to do more. Here are some things Juventus can do: 1 - More identification between players and fans as one person wrote on your website. That is true. 2 - Don't rename the stadium after a sponsor. 3 - Get the seats filled with families not fans throwing dangerous flares. 4 - Open up the new stadium to free tours to fans once a week. (Like on a Saturday morning). 5 - Get a few home grown players on the pitch. It is amazing how much of an international following Juventus has and yet it struggles to fill the stadium. The management at Juventus have their work cut out for them. Forza Juventus!
---
Tim Bosschem, Belgium
Everytime I see Juventus playing in a nearly empty stadium it kind of breaks my heart. As a passionate Juventus fan it worries me a lot. I can't help the feeling that, if I were a top football player with no special passion for Juventus, I would definitely prefer other clubs above Juventus because of the small attendance at the Delle Alpi. It scares me a lot. Thus, i was very delighted when I heared about the building plans for a new stadium inside the Delle Alpi, assuming the capacity would be about 50 000. Right now i'm even more worried. A 35 000 capacity would be a real shame. I accept that there are less Juventus fans in Turin than anywhere else in Italy (and maybe over the whole world), but I do think that the attendance will be doubled when we have a stadium like, for example, Liverpool have. I'm sure that if the '35 000 – stadium' will be built, we just create new problems in the future. As Juventus will be a succesful club owning a stadium with an awesome atmosphere (because of being so close to the players), the fans will come back again encouraging their idols. The directors will see a sold-out stadium every week and will realize that Juventus could catch more money if it had a stadium with a 'normal' capacity for a top club. I do believe that the Delle Alpi is the real problem and not Turin which I would call a sad coincidence. If it's true that these days thousands of people travel from Milano and elsewhere to Turin to have a bad view on a football match, than this number will only increase if you know you will be in a stadium where the players do hear you if you shout their names.
---
Tom Hughes, England
I had previously read of this paradox regarding Juve's attendances, having the country's largest fanbase yet struggling to fill the stadium in recent years. I think it is essential that the club does not pursue the reduced capacity policy. Many clubs in the UK did the same in the 90's and have had to spend massively to continually enlarge to meet demand. Smaller capacity has been a false economy for clubs like Man Utd (stopped at 45,000 initially now expanding to 75,000 at great expense), Newcastle achieved all seater status with 36,000 seats and have had to expand upto 53,000, and Liverpool currently trapped in 45,000 seater Anfield when a little foresight could've easily yielded 55-60,000 on the same site, now they're struggling to find money to relocate..... So Juventus should think long and hard before restricting themselves in this way. Personally, I believe they should be looking for a minimum of 55,000 capacity within a tightly packed configuration, with two large end stands preferably single tier and of approximately 80 rows, bending around the corners to join with double decker similar height stands on the sides. This should easily give the required capacity, but also help generate the type of atmosphere that will bring the fans back.

Stadio Delle Alpi is a great athletics arena……. End of discussion. Simple solution, turn the pitch through 90 degrees, and knock the existing curves down, building new side stands, preferably 2 tiered to join the existing 3 tiered stands, have these close to the pitch. A capacity of less than 50-55,000 for Juventus is surely ridiculous regardless of recent trends. Someone mentioned Everton FC in one of their earlier posts……. I am an Evertonian, and other than Man Utd and now Newcastle, we were the last English club to average over 50,000 hopefully indicating our former status. Liverpool's success of the 70's and 80's and the city's general decline helped severely erode our support, but we are hoping one day for a new 50,000+ stadium. In a nutshell……. A capacity of 42,000 for Juventus will be a big mistake, if not short term then certainly long term….. it's plain to see. Attendance trends are cyclic, the crowds will return when they get sick of their armchairs…. It's happened in the UK, it will happen in Italy. But then Juventus fans wont be able to get a seat in their new stadium!
---
Folkert Mulder, Holland
I think it's not an easy question why the Delle Alpi is only half filled. I've been in the Delle Alpi and it's not ideal compared to stadiums in Britain, Germany and my country Holland but it's not dramatic. In my opinion it's more an Italian problem than a Juventus problem, because when you take a look at the attendances of the other Italian clubs, you'll see that those clubs have an average of 20.000 to 30.000 empty seats per game. So I'm very curious for the reasons why fans don't go to the stadiums to support their teams. Maybe the design, in the stadium in my hometown in Holland I can touch the players if I want to. But the San Siro stadium in Milano has also the "Western European" design but they've even got an average of 55.000 to 58.000.
Maybe there is "too much" football on television but I don't think that's the reason either. In other countries there is lots of football on television and attendances are still increasing. And I can go on like this. But my conclusion is that the image of football in Italy, when most people talk about Italian football they aren't positive, teams play too defensive, there's no action etc. I don't know if this image also exists in Italy, but when a team has an attacking play style fans will be more enthusiast, even if the team loses once in a while. But off course a new stadium also will improve the situation unless the directors are trying to make a cinema instead of a football stadium, because the special football spirit in stadium is a very important part of football.
If someone has other conclusions or solutions, please mail me Folkert.M@gmail.com
---
Richard Arkless, Scotland
I am a Glasgow Celtic fan and write this article as a fanatical lover of football. Juventus face a potentially crippling decline in their home attendence and are looking to downsize their stadium whilst searching for reasons as to explain why this has happened. First i would like to offer my opinions on why I think it has happened. Celtic have always played on the same ground, it has been owned by us since our formation and became the physical location to which we entrust our passion. We feel ownership in our ground, it is where Celtic has and always will be. We call it Paradise. The best way to compare it is to a church, it is the centre of our faith, every home game is like an obligatory pilgramige. To be there there is to be a supporter,to watch it on TV is like praying at home instead of the church. I feel by what i read that Juventus supporters do not share this sense of ownership in the focal point of their club which is their stadium. It as if Juventus is an ideology and not a place (which is admirable as every great club is more than where it is) but it needs to be on top of its roots to survive. There seems to be conflicting views as to what and where its roots are. I feel decline of attendences is a result of this.

I visited the Delle Alpi in Italia 90 to watch Scotland lose to Brazil and agree with all the views expressed that the stands are too far from the pitch which impacts seriously on the atmosphere. But this is game atmosphere, the atmosphere created by ownership and a sense of belonging in the place outweighs the atmosphere created due to how the place is constructed. If Juve supporters viewed their home ground in this sacred light then the fact that the view from the stands is not as good as it could be, would not be as big a factor that led supporters to watch it on TV. I feel Juve needs a new stadium to attempt to correct this. They need to own the place first and foremost. It could still be the Delle Alpi, but it needs to be the centre of Juventus and not just where they play. The club needs to find a way to connect the support of this mighty club to the place where the players ply their trade. How to do this is the problem. Consult the supporters, issue bonds to buy seats for life, reduce prices, black and white seats, community involvement (schools etc), seats closer to pitch, no designated areas for ultras.

On the subject of Ultras. If you never had a designated area for them and dispersed them round the stadium more families and people would come back to the ground. The very same thing has happened in the UK with all seated stadiums after the Hillsbourough disaster. With no terracing the hooligans found it hard to organise and (despite my considerable doubts at the time) families and others came back to games in their thousands because they felt safe. Kids love football more than anyone and you need to create an environment where parents and kids feel that going to a footballl game will be a good experience instead of a risky one. Believe me, i know it feels as though you will be losing tradition and your passionate base, but people will flock to the new stadium if they feel a safer/cleaner atmosphere in a place that is Juventus. Consult the fans to design the place and to where it should be to attempt to create the ownership connection. If your serious commercial goal is to attract more people to home games then this close consultation with the fans who are Juventus needs to happen. A club the size and stature of the old lady deserves a large and full stadium.

The irony and contrast is that:
- While you have empty stadiums ours are bursting to capacity.
- While Juve consistently reach the later stages of the Champions League in front of small crowds, Celtic have failed to reach the second stages in front of bursting passionate stadiums ( a perfect example was a 4-3 vicory over an already qualified Juve, to go out by a point 3 years ago).
- While we know who we are and where we belong, Juve seems to be a burning identity that doesn't know its home.
- While we play infront of full stadiums and recieve little TV money (£2m for a complete domestic season, £10m for group stages of Champions League) Juve play in front of poor crowds and rely on substantial TV money, four times the maximun we can earn as a minimum.
- While Juve sign world-class performers on world class wages to play in front of empty stadiums we have little annual budget for transfer fees but can pay semi-world class wages for average players due to substantial season ticket sales to play in packed stadiums.
- It is fair to say that we wish we had your qualities and you are searching for the qualities we have. IRONIC!
---
Fabian Miceli, Australia
I believe that Juventus should not reduce the capacity of their stadium to less than 55,000 people. The reasons are that i believe that the attendence is low because of the poor visibility in the stadium. I have never been to the delle alpi but after reading a few different sources of information it sounds like people are fed up with the absolute shocking view from the stands in the delle alpi. So if Juventus were to build a better stadium without the running track, like the stadiums in the premier league, then people will come back in droves. There is nothing like watching a game of football when you are close to the players. Juventus have never had a stadium were the fans are close to the players.
The old Communale had the running track and therefore the fans were far from the players as well. So how do you think the fans will react when they finally get a stadium were you can actually see the players!! It will be like a dream come true and i think that the 42,000 seats will not be enough and then they will have to build another stadium as it will always be sold out. On the other hand if i lived in Torino i would watch every Juve game, for Juve is in my heart and i would feel like i would be betraying the team if i didnt go. So one has to consider that those people who don't go to the games should be ashamed to say that they are Juve fans. How can you watch the game on tv if you live in Turin? Dont you all realise that teams like Milan and Inter are laughing at the support that Juve get?
I think that their should be a survey on Juve Supporters living in torino. The survey should consist of these questions.
1. Would you come to the new stadium if we guarentee excellent views of the field and players?
2. If you dont watch games at the delle alpi, what are the reasons?
3. Would you still subscribe to sky when the new stadium is built?
4. What improvements would you like to see in the new stadium?
I think that these four questions are critical and this will pretty much determine the attendences when the new stadium is built(bearing in mind that the Juventus board keep ticket prices competitive). Without the fans having some sort of say and input in the new stadium the Juventus board will be making critical errors. To all Juve supporters living in Torino do not abbandon your team when they play. How do you think the players feel when there are empty seats everywhere? Look at what Juve did to Real Madrid in 2003 when the stadium was full. It gives the players a great boost so going to the stadium will only boost Juves chances of winning the scudetto and the trophy weve all been dreaming about since 1996 (the champions league). Dont forget:
C'E UNA STELLA IN CIELO CHE INDICA IL CAMMINO, FORZA JUVE VINCERE E' IL TUO DESTINO.
---
Richie Dee, England
Oh! where do I start. As a training architect that would like to specialise in the development of stadiums I have many points on this issue. It has long been noted by myself to the lack of support for the club known as the `old lady`, and like other people agree that a key factor is the poor design of the stadium. Though the main factor is passion of the Turin fans as I understand. Why do Italian stadium designs usually consist of a pointless athletics track? is it ever used? I dont think so. What needs to be looked at here are a number of issues, but first research into other countries attendances must be carried out to discover the main causes for the problem. The highest attendances of any sport you will find in the world is at College football games in the USA, with the Michigan Wolverines averaging 111,008 over a College season. Other College teams have sold out capacities of 83,000 every game for 50 years (Notre Dame). The reason for this is the fact that the fans are more involved in the team as they attend the College and consider it a part of them. This is what first needs to be re-established, a means of identity. How this can be done is difficult to explain without several pages.
The NFL also has sell out crowds most games and is more fairly comparrible to club football as the supporters are connected to the team by a liking to the team instead of been a part of it, like it is in College football. Other than the Americans been a very passionate nation this also shows that the spectacular stadiums go a long way to attracting the supporters. An NFL game is not just a game but a show aswell almost like a cinema attraction, with things like cheers leaders, waiting service etc. I think European football should be more like this in general, you may disagree. But this would go a long way to attracting support. The following developments to a stadium would definately increase the crowd dramatically:
- The stadium needs to be built as close to the pitch as possible for more intimacy.
- The first tier should be situated about 2m above the level of the pitch to give an over looking ampertheatre feel.
- The angle of the tiers should be as steep as possible for a more intimate and intimidating atmosphere.
- An audio tanoy system which encourages the fans to sing the famous songs. This will make the fans feel a part of the experience.
- Pre match build up on the pitch in the form of possibly cheer leaders or something more suitably European.
- Hyping up the stadium and games through media channels within the complex.
I could go on but these are just some of the key issues that need to be considered. I believe football should be taken forward this way and especially needs to be adopted by the mighty Juve. I believe that the stadium should be at least 70,000 to represent their stature. The sections that are not filled at first could easily be disguised with flags etc and then removed the more popular it became. I also think another problem could also be the fact that Italien football is also defensive which may deter some supporters, but true fans stick with their team regardless. Anyway I hope my points may be considered for a better live supported future for Juve and football.
---
Sebastian Kath, Germany
I personally think that it is right to reduce the capacity of the stadium. All above the club will benefit more from playing in a sold out stadium. The whole match atmosphere will become more attractive and that's also important for potential sponsors. Would you spend money in a club when you see it on TV and in the background you can only recognize gray concrete? Blaming the club for these actions is ridiculous. The Turin fans had their chance to show that it would be worth to maintain the capacity. They didn't. I have been once in the Delle Alpi stadium, but I have to admit the view isn't so bad as it is always moaned about. Nevertheless I am looking forward to see the new one.
---
Karem Perez, Guatemala
I read all the articles that I, of course, could understand; and there's a little bit of truth in every one of them, I guess if we put it together, one of the many conclusions would be, first the idea of changing the stadium it's ok, but they have to think why do they really want to do it, they know that doing something against the fans is the worse way to go, and that's exactly what they're doing by not asking the crowd, they could do polls through the internet the same way you're doing, I'm pretty sure fans would come up with great ideas for this rearrengement of the stadium, fans are the ones who are going to use it, aren't they? and if they want to make people get closer to the stadium and by these get closer to the team they should make people feel involved.
I know it's a very difficult thing to do, but not impossible, they have time and they of course have the means to do so. I get pretty upset when I watch a game and I hear the comments almost jokes about the emptiness of the stadium and that emptiness makes Juventus seem a lousy team, a team that hasn't done or doesn't do something to deserve an audience and I guess that's not the reason. I'm very far away from Italy, I dream of going there at least once in my life and I could dare to say that probably Juve needs some great leaders in different fan clubs inside Torino, leaders of fan clubs who could really make people go and be there for this beloved team, someone who could make everyone feel the passion of being a fan, I guess by having 2 or 3 fan clubs that would be willing to go everywhere, there could be arrangements that would benefit the team, the fans and everyone involved. JUVE IS NOT A TRADEMARK, it's a group of very talented men who are living a dream and that makes the rest of us be part of it!
---
Marco Lombardo, Italy
I'm Marco, an italian supporter of Juventus. I've read your comments about the stadium problem and i think you are right, but you've to explain me - why in the recent past when Juventus had Ancelotti as a trainer, and not such a good team as now, we had 45000 supporters in the Delle Alpi? Or why the Juventus directors, like Giraudo, Bettega and Moggi, don't want to build a stadium about 50/55000 seats? Is this only because of the attendance of the last 2/3 years? I don't think so... They want to delete the Juventus ultras groups because their ideal stadium has to be occupied only by families, so that the father watch the football game whith his son while the mother goes with her daughter in the cinema or in the other entertainment spaces. Then after the match all the family takes a trip to the Juventus museum and/or megastore to buy a special souvenir of this lucky day. This is the real intention that "triade" has. I remember a "delle Alpi" often sold out in the past, in match vs Fiorentina, Torino, Manchester Utd, Barcelona, Real Madrid, Ac Milan,Internazionale but also against Roma.
I used to go to the Delle Alpi since I was only 8 years, but i remember easily a "Delle Alpi" extremely full. I think that many problems send away supporter from the stadium, first of all Sky and pay tv in general. Two nights ago(23.11.2004 against Ajax) we were only 6000 in the stands, and that was the first time in my life that many people didn't sing in la Curva Scirea, but I believe that with the new Arena(my dream is at least about 50000 seats) the situation will be better. Why in Milano, Juventus move more than 60/70000 supportes in your opinion? Of course because of Lombardia is the first region for Juventus supporters, but Milano is 110 km from turin, it's not so far, and so also because of the stadium, that's the best one in Italy. So Giraudo, Moggi and Bettega: please make us a spectacular stadium and after that Juventus supporters will answer.
---
Alessandro Lodi, Italy
Premettendo che sono stato diverse volte al delle alpi, è a s.siro e altri stadi italiani, vorrei porre l'accento sulle responsabilità della società riguardo alla scarsa affluenza allo stadio. Senza nulla togliere al fatto che i tifosi di torino sono senza dubbio freddi(sia granata che juventini) vorrei porvi un paio di numeri che fanno riflettere e che vi fanno capire perchè reputo la società la prima responsabile: un juve-atalanta da 33.000 spettatori incassa circa il 10-20% in piu` di un milan -atalanta da 55.000, a questo punto la società si trova con un buon incasso, minori problemi di sicurezza è ordine pubblico. Quindi alla triade questo va benissimo e dal punto di vista manageriale si trova in una situazione perfetta che non ha interesse a cambiare. È vi ricordo che nonostante l'incasso a s.siro, con 55.000 spettatori si assiste ad uno spettacolo fantastico che in un circolo virtuoso fa arrivare ancora piu' gente per le successive partite.
In un juve-atalanta con 33.000 ci si trova in uno spettacolo desolante, con il portafoglio vuoto è con pochissima voglia di tornare al delle alpi(che è davvero fuori mano specialmente per chi abita a torino e in questo senso c'è anche un discorso di scarsa raggiungibilità proprio per chi è di torino). Tutto sommato in questo scenario la scelta della società risulta quasi perfetta, il nuovo stadio sarà sicuramente stupendo sotto molti, se non tutti i punti di vista, con il nuovo polo commerciale ci sarà sicuramente una migliore raggiungibilità e un avvaloramento di una zona davvero triste, ed un probabile potenziamento dei mezzi di trasporto, è ci sarà sempre piu' gente (anche in coppa italia). Ho detto quasi perfetto per due motivi uno perchè la capienza sarebbe stata meglio con 50.000, due perchè prima di sparare a zero ricordiamo che andare in tribuna nello bellissimo old trafford di manchester costa meno che andare in curva a torino, in uno stato in cui tutto il resto costa di più che in italia.
---
Mikkel Rehdin, Denmark
I think it is a problem that Juventus will reduce the stadium capacity. I have several good points why they should build a 50.000 seater stadium. First of all more people would come to see them play without the running tracks. The supporters would enjoy a more intense atmosphere with "an almost soldout" stadium with 40.000 supporters and a capacity of 50.000 seats. Better facilities would mean more people present in the stadium. More people in the stadium would generate more people to come - the opposite of a vicious circle. What will Juventus do if sudddendly more than 40.000 people would like to watch every game? Rebuild the stadium once again? It would cost more money than if they made the capacity 50.000 from the beginning. I am from Denmark and there we have a team who enjoyed 3000 supporters in an old stadium on average - then they built a new one and now almost 12.000 come to the stadium each time. Doesn't the Juventus directors think that 50.000 spectators would come at least once in a while if the stadium would be improved like for instance the new one in Hamburg?
---
Michael Schmidt, Denmark
Sono sbalordito dal fatto che la dirigenza juventina pensi sul serio di fare uno stadio nuovo con una capienza bassissima di 41 mila spettatori (che in realtá diventa ancora minore, visto che almeno 3-4 mila posti vengono persi per questioni di sicurezza!). Mi sembra uno brutto scherzo. Ma, sul serio, come si fa a pensare che una societá mondiale come la Juve possa accontentarsi di uno stadio da squadra provinciale che lotta per non retrocedere. Mi sembra troppo ridicolo giá il fatto di pensarci! Sará pure possibile che Torino sia una cittá un pochino fredda (a me é parsa peró una cittá bellissima, molto piú affascinante della sua discutibile reputazione di cittá grigia e industriale!), ma quando la Juve gioca in casa contro i rivali storici, come Milan, Inter, Roma e Torino, molto spesso lo stadio si riempie comunque, o quasi. E sia contro il Real, sia contro il Manchester, c´é stato il pienone. Insomma, nonostante la media sia di poco inferiore ai 40 mila, quando la posta in palio é veramente importante, la gente bianconera viene sempre allo stadio.
Ridurre la capienza a la metá di quella attuale, mi sembra un insulto nei confronti dei tifosi che vengono da lontano per sostenere la propria squadra. Per esempio, se la capienza fosse di solo 37-38 mila (facendo il conto anche con i posti persi per motivi di ordine pubblico...), io, vivendo a quasi 2 mila chilometri da Torino (a Copenaghen), non avrei mai nessunissima possibilitá di andare a vedere la Juve in casa in una sfida di vertice. Perché in questi casi, tutti i posti sarebbero giá riservati agli abbonati locali col seggiolino numerato. Anche i tifosi italiani residenti per esempio in Sicilia andrebbero incontro a queste medesime difficoltá. Ma vi sembra giusto?! A me no! Alla dirgenza bianconera vorrei dare questo messaggio: prima di prendere questa decisione troppo affrettata e troppo sbagliata, pensateci piú di due volte. Altrimenti, temo che vi dovrete rammaricare tantissimo in futuro per una decisione molto penalizzante per tutta la juventinitá del mondo!
---
Robert, Vienna (Austria)
Please make the Delle Alpi have at least a capacity of 55.000! Building the Delle Alpi like it is today in the late eighties was a disaster. Building a new stadium with a too low capacity would be the next disaster. After my opinion there are various reasons for the low attendance the last seasons: There are few Italian players in the Juventus team and few local players. Therefore there is no identification for the local supporters. The current Delle Alpi stadium is a horrible stadium. In the first seasons of the Delle Alpi the stadium had an average attendance of 50.000 spectators, only because they thought they had a new and beautiful stadium. After a couple of years the people of Turin recognised that the Delle Alpi was not a stadium for football. The Italians were crazy in 1990 building an renewing the vast majority of the World Cup stadiums with pitches dividing the spectators from the players. It made no sense for future trends! That the Germans did so in 1974 I understand, because at that time pitches were "in" worldwide!
So the Italians made a big mistake when they renewed their stadiums. Other reasons for the low attendance are bad promotion and too much football on TV. Our local rivals Torino are in Serie B, the same as our historic enemy Fiorentina. It seems like Italians are a little bit tired of football. Reasons for this may be that there is too big difference in the potential of big teams and smaller teams, this was not the fact 10 years ago. There are only two teams from the south in the Serie A, that means no north-south competition. And the "Azzurri" has not taken a big title since 1982. All these facts have bad influence on the average attendance! I am sure that this can change rapidly! The attendances in England and Germany will not grow into heaven. Italy just needs a new impact (World Cup or Euro Cup title by the Azzurri, Champions League title to Roma for a change, or a local Piemontese Superstar at Juventus).
---
Antonio Marciano, Philadelphia (USA)
I think the head people at juventus are going about this the wrong way. really all there doing by reducing the seat capacity from 70,000 to 40,000 is making them look better on t.v. it will look like there fans actually show up when its really the same amount of people at the stadium. here they are spending hundreds of millions of dollars and the only good it will do is the annoying track near the field will be gone. ive been to torino and i agree they are really cold fans. the ones that support them 100% on the other hand are great fans. but the other ones arent even real fans. i heard them saying that "us fans deserve better" and they should win every year if not whats the point of going to watch their games if they wont win the scudetto.
I really think instead of spending all this money to make less seats they should really go on an italian tour for 1 or 2 seasons for their home games and play all around italy and even outside of italy where they are really popular. this way those horrible fans wont take them for granted anymore. i know the loyal great fans that support them every week will have to suffer a little bit, but there great fans and they'll show up once again. going back home after those one or two seasons will see for sure sold out stadium in every home game. Us passionate fans tend to make an excuse for those empty stadiums like the weather or they are playing against a crappy team but we all know its the fans in torino, shame on them. if cities like roma and milano can constantly fill up there stadiums every week by both teams then for sure Juventus can!!!
---
Roberto Colalillo, Australia
Ciao Tutti, My name is Roberto Colalillo and I live in Perth, Western Australia. This topic about Juventus and their stadium has angered me ever since I was made aware by television pictures and reports that the Delle Alpi Stadium is nearly empty in Juve's home matches. It is unthinkable that Juventus - one of the world's most popular teams - can't even fill it's stadium! Here in Perth our population is the same as Torino's and as with other cities in Australia, soccer is definitely not the number one sport. We have one team competing in the national league - Perth Glory - and despite soccer's low popularity they still manage to get about 20 000 people to their home games. Therefore, how is it possible that the home city of Juventus can't even manage to fill its stadium, when soccer is clearly Italy's number one sport and Juve is the Serie A's number one club. A lot of the blame has been put on the fact that the Delle Alpi is an ugly stadium and is too big for regular Serie A matches. This is partly true as the stadium was built for Italia `90 where big crowds were guaranteed. Though this can not explain the huge emptiness the "concrete bowl" stadium experiences week in week out. True fans would go anywhere to see there team play. It's definitely time Juventus redevelops the Delle Alpi into a a more suitable stadium but who's to say the local fans will appreciate it?? They should also assure fans from abroad that they won't be left out by a redeveloped stadium. It hurts me to think that I - who lives 13 000 kms away from Torino - may not see a live Juventus match for a few years and the locals who have access to matches whenever, are abusing their privileges!
That's my piece, Roberto Colalillo Perth, Western Australia.
---
Alessandro Wong, Hong Kong
Ciao, i'm Alessandro, a JUVENTUS fans from HONG KONG ( a city in China). I feel angry & disappointed when i read this article about our beloved JUVENTUS' new stadium. I simply can't understand why there is no one support our team when they are fighting hard on the pitch. Whenever i watch JUVE's match broadcast, i already noticed that really few audience in our stadium, but i can not imagine it is only half of the full capacity.
When you see other teams match across Europe, REAL MADRID- has more than 76000 spectators at the Bernabeu, Barcelona--has more than 90000 at the Nou Camp. Some small clubs like Aston Villa, Everton also has nearly FULL capacity when they play thier league game at home. For a such big club like JUVE, no more than 50000 to70000 fans in the home game can be described as a shame for us.......
However, i can't agreed the club's decison to build a stadium with only 35000 seaters. It is simply not a BIG CLUB's figure, we are the BEST in italy, & among the world. So i suggest our new stadium should have about 50000 seats at least. When you know that clubs like Arsenal, Newcastle also plan to build a stadium more than 50000 seats, you must agree with me. Although the number of spectators drop drastically, i think the extra seats apart from the season ticket holders can be sold to other fans around Italy & Europe.
Since it sounds JUVE enjoys a sold out stadium when they play away games. I think JUVE should consider playing some of thier home game in other city, for example, when we have home match against the lower profile teams, we can try it. Since we enjoy more support in other city rather than in Turin. Remember !! JUVENTUS is the image & represent Turin, JUVENTUS can last without Turin, but Turin can't lose JUVE. I'm sure most fans all over the world, like me, will NEVER know Turin until we find our JUVENTUS.
I'm Alessandro Wong, my email is alessandro@netvigator.com , i live in Hong Kong.
---
Anton Nikitin, Israel
This is unacceptable that our Juve will play in front of 35 000 (at max) crowd at home. The shame will be very painfull, every Juve fan must protest and act against this kind of future. Of course the Delle Alpi should be resolved, but this is not a solution. A real solution will be building a brand new stadium inside the city that will be both inviting and big enough, at least 60 000. We all know that the problem isn't the number of the fans, the problem is the grey, cold and so remote Delle Alpi. The reconstruction as it was proposed is a disgrace for Juventus F.C.
I call for all our fans in Italy to demand a real solution, we must leave the management no other choice then building a new grand stadium for our team. And how? By filling the Delle Alpi! If we will fill it just once and bring relevant banners, we will make a big impression. I'ts all we need! 69 000 just once! Please, all who have influence on the fans in Italy, unite fot the sake of Juve!
I'm from Israel, Ashkelon, and i have no time for a trip in the next 2.5 years, but then i will make the trip, i hope i will find a real home there Juve will thrive.
annikitin@yahoo.com
---
Alex, Russia
I am Alex from Moscow(Russia). In spite of the fact that i live in Moscow my native country is Georgia. Every time when i watch a Juventus match from the Delle Alpi my soul becomes sad. It is very unpleasant situation to see Juve`s game, for every match at home only 35.000 supporters come to the game. I suppose that the main reason is the Delle Alpi, in particular it`s arrangement and design. From the appearance it looks nice and elegant, but this stadium doesn`t carry out the overall objective that is to deliver convenience and pleasure to the Juve fans. Perhaps the moment that Juventus arent the most popular team in Turin matters a lot, but remember the 1/4 of Champions League season 1995/1996 against Real Madrid. That day the Delle Alpi was sold out! In my opinion Moggi, Bettega, Chuisano and co. should build a completely new stadium on another location with a capacity over 75 000. Sempre forza Juve!
---
Massimo Bazzani, Italy
In merito al problema pubblico e stadio secondo me vi sono tutta una serie di fattori che hanno inciso e incidono sulla mancanza di pubblico. Premessa: sono un abbonato della curva sud, e sono di Certaldo (Fi) e quindi mi sobbarco insieme ai miei amici un bel tragitto per vedere la juve. Fatta la premessa secondo me la mancanza di spettatori è dovuta allo stadio, e secondo alla lontanza tra la società e i tifosi. Lo stadio è freddo, tiene i tifosi lontani dalla squadra, non ha una buona acustica, non ha una buona visuale. Ma la cosa che secondo me incide di più è la considerazione che la società ha dei tifosi: in un calcio che ragiona sempre di più con la testa al portafoglio (giustamente anche) è più importante il business del cuore ed ecco che i giocatori non vengono mai ad accogliere l'abbraccio del pubblico (tranne rari casi come nedved), non si permette l'invasione di campo all'ultima giornata, non si organizzano feste per scudetti vinti in circostanze storiche (vedi 5 maggio).
Il tifoso sente la squadra lontana, non si sente partecipe della società e quindi non si sobbarca spese a volte difficili. Il fatto che la società voglia fare uno stadio ridicolo per numero di posti sta a dimostrare questo: meglio avere 10000 posti in meno allo stadio, ma 10000 abbonamenti televisivi in più. Infatti il problema non è la scarsa affluenza di pubblico che ha indotto la società a questa scelta ridicola, ma solo un freddo calcolo economico. Si sarebbe potuto scegliere di fare uno stadio da 50000 posti e mettere in piedi una politica di immagine e di cura per il tifoso e credimi con uno stadio bello, visuale ed acustica buona si sarebbero sfiorati i 40000 abbonamenti, due-tremila posti per gli ospiti, 3000 paganti e lo stadio sarebbe stato comunque pieno. Domanda alla triada se pensano di andare a giocare a San Siro una eventuale futura sfida Juve-Real o Juve-Manchester. Staremo a vedere, io sono sfiduciato verso questi dirigenti che pensano solo e soltanto alle esigenze di bilancio senza preoccuparsi dei propri tifosi che permettono loro di "mangiare". Io continuerò a sostenere la squadra, ad essere critico con i dirigenti e con il signor Lippi che giustamente dopo aver perso 5 finali europee su sette se ne deve tornare a Viareggio e lasciare il posto a qualcuno che le palle per vincere ce l'ha, con tutto il rispetto per Marcello che ci ha fatto vincere tanto ma che per l'europa evidentemente non è adeguato.
---
Back to main page

Copyright: Danilo Paparazzo