The history of the Juventus fans
Click on the pictures to see them in full size.
---
The first real groups of Juventus supporters came in the middle of the 1970's. The first two groups were on the extreme left side in politics and were badly organized. The first two groups were called Venceremos and Autonomia Bianconera. In 1976 the first two real ultras groups were founded, Fossa Dei Campioni and Panthers. One year later the historic group Fighters was founded by Beppe Rossi. He was the most important figure among the Juventus supporters and had extreme influence on young ultras in Turin.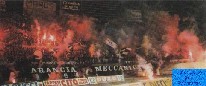 In the first years of the 1980's other supportergroups were created. Gioventu Bianconera, Area Bianconera and Indians were among them. Two extreme ultras groups were also founded during this period, Viking and Nucleo Armato Bianconero(N.A.B). These two groups really made themselves respected both inside and outside the stadium. Viking and N.A.B were the only two Juventus Ultras groups who reminded of real hooligans. This is because they never feared fighting against other supportergroups inside and outside of the stadiums. In 1983 the different Juventus supportergroups organized their first away match in Europe(Liege, Belgium 1983).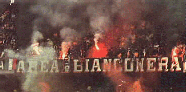 In 1987 the historic group Fighters was dissolved after 10 years of glory. The reason was the fighting and violence that occured in the away match against historic rivals Fiorentina. The majority of the old Fighters members, along with members from other groups (Indians and Gioventu Bianconera) decided to create a new group called Arancia Meccanica(Clockwork Orange). The name was inspired by the popular Stanley Kubrick film.






The original "Drughi" in the Clockwork Orange movie by Stanley Kubrick



The name which was associated with violence created many problems and the group was forced to change name. The fans managed to fool the Turin politicians changing name to Drughi. Drughi was the name of the gang that the main charachter of the movie Alex was part of(and the Turin politicians discovered this too late!). Drughi became the most important supportergroup, and had 10 000 members between 1988 and 1996.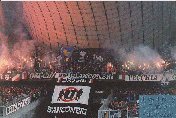 In 1993 some of the Drughi members regained their autonomy and gave life to the old Fighters group. In the next 4 years Drughi and Fighters fought to become the leading group in La Curva Scirea. The Drughi group hung their banner in the middle of La Curva Scirea while Fighters had to hang their banner on the right of them.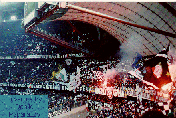 After Juventus won the Champions League final against Ajax in 1996 the supporters were ekstatic and decided to collaborate. The groups Fighters, Drughi and other small groups in La Curva Scirea decided to get together under the name Black and White Fighters Gruppo Storico 1977. The old Fighters name then regained its former glory exactly 20 years after its foundation.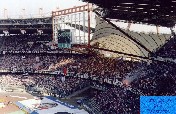 In this period another big supportergroup, Irriducibili Vallette, gained massive influence in La Curva Nord of the stadium. The group was created in 1990 by a group from the Vallette part of Turin. Due to heavy sanctions on Irriducibili members and difficulties in collaborating with Juventus, Irriducibili was dissolved after the end of the 2001-2002 season.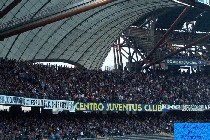 In the 2002-2003 season the Juventus directors started a new project which gave La Curva Nord to the Centro Coordinamento Juventus Club. This is an organization that contains every official Juventus club in Italy and abroad. More than 1000 Juventus clubs altogether. The Juventus directors decided to remove every ultras group from La Curva Nord, and prohibited them to show banners from ultras group in that part of the stadium. The project of the Juventus directors has turned out to be a huge failure.

La Curva Nord is now almost deserted in the majority of the Juventus games, and the few songs that come from them can barely be heard by the rest of the stadium. The absence of a real supportergroup commanding La Curva Nord is evident. For many years Juventus had a huge advantage in that they had two huge stands in both ends of the stadium cheering on them. It is rare in Italy and abroad that clubs have supportergroups in both ends of their stadium. This created a good atmosphere in the Delle Alpi stadium. The Juventus ultras groups are very curious about what will happen when the new stadium is ready. Will they again be allowed to occupy both ends of the stadium, or will Juventus continue their failure project?



---
Irriducibili Vallette


The supportergroup "Irriducibili Vallette" do not exist anymore after they dissolved themselves in 2002. "Irriducibili Vallette" were placed in La Curva Nord at the other end of the stadium from where "Fighters" are placed. "Irriducibili Vallette" were founded in 1990 and were a very organized supportergroup. They came from Vallette which is a place in Turin. In january'98 they replaced "Viking" and took over the leadership in La Curva Nord. The troubles for Irriducibili started in the 2001-2002 season when they criticised both Lippi and the squad for their poor results early in the season. Juventus then refused to give them tickets to away games and the atmosphere got tense.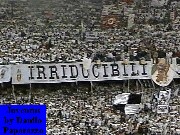 They later managed to make peace with Lippi, but refused to speak more with the club and vice versa. After many problems "Irriducibili Vallette" do not exist anymore. It's a big shame because they were doing a very good job and Juventus had huge support from both ends of the stadium. La Curva Nord is now named "Centro Juventus club, 1000 club per una curva", which means that more than 1000 different supporterclubs are gathered together in La Curva Nord.

Irriducibili also got much of the credit for "the big revolution" among Juventus fans. A revolution which contributed to make the atmosphere in the stadium better. "Irriducibili Vallette" had the ambition of becoming the best supportergroup of Italy, their banner was always present wherever Juve played. Their symbol was a hand holding around the world. Just as "Fighters" also "Irriducibili" were divided into sections. Two from Switzerland,"Zurigo" and "Lugano", along with "Ponente", "Marche" and "Milano" from Italy. The group said no to politics and they had an own fanzine named "Numero Uno".


---


The new supportergroup Noi Soli was officially founded during the 2002-2003 season by former members of the feared supportergoups Viking and N.A.B. The name Noi Soli came from the backside of an old Viking N.A.B scarf were this was written. Noi Soli means Us Only or Us Alone. The group was initially founded by 10 men and during the 2002-2003 season this group placed themselves in La Curva Nord. The group had a tough start and violent arguments between Noi Soli and former member of the Irriducibili Vallette group occured during the game between Juventus and Newcastle.

After a difficult first season the group decided not to give up, and 52 members made themselves ready for the 2003-2004 season. Noi Soli got the permission from Fighters to hang their banner on the first floor of La Curva Scirea, right next to the banner of Nucleo. The relationship between Fighters and Noi Soli has so far been very good. The Noi Soli group has managed to be present with a good number of members to every home and away game Juventus has played this season. Their symbol is a warrior whick reflects what they feel like inside, warriors following Juventus. They love the Juventus jersey and their main target is too make a good impression in the Stadiums all over Italy.



---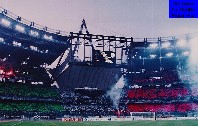 The old and historic supportergroup "Viking" is back and they now travel around stadiums all over Italy. The majority of the former group members reunited in the summer of 2003 and gave new life to the historic ultras group. The group now consists of much of the same people as before, except for the four former leaders who are now longer part of the group. The four former leaders fought each other over economic issues and ruined things for the group. Even the historic "Viking" banner is the same as before. Due to bad relations with the police and Juventus F.C the banner is only used in away matches. They aren't permitted to show it at the Delle Alpi stadium. "Viking" tried to take back "La Curva Nord", their former home, but were denied by the police and the club.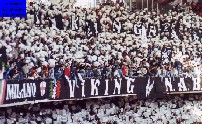 The biggest supportergroup "Fighters" therefore invited them to join them in "La Curva Scirea". The two supportergroups "Fighters" and "Viking" are friends and stand united behind the team. The former leaders of "Viking" dislike the fact that they now are friends with the rival supportergroup "Fighters". Times have changed and "Viking" don't longer possess the great strength of power and members that they did during their 10 years of glory. They therefore have to collaborate with other groups to survive. The old "Viking" group were feared all over Italy, by both Juventus fans and rival fans, by the police and by the club. The "Irriducibili Vallette" group were only permitted to take control in "La Curva Nord" after "Viking" were split in 1998.





The supportergroup "Viking" was split in 1998 because of internal problems and trouble over stolen banners. "Viking" were the most radical, feared and most political supportergroup of Juventus ever and was founded from boys in Milano. They later got allied with N.A.B, a supportergroup with members from Genova and Pavia. The group was by some people wrongfully called Viking-N.A.B for few years, after 10 boys from the Nucleo Armato Bianconero based in Genova allied themselves with Viking. But the group was always called Viking.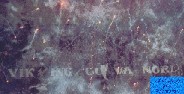 ---


Even if they were founded in 2001, Bruxelles Bianconera are one of the newest additions to La Curva Scirea. These guys from Belgium travel all around Europe to support their beloved team. There ain't many Juventus fans who travel more miles than these ultras. Bruxelles Bianconera have made theirself a name among the Juventus fans and are now well respected. They are particularly known for what they did to get a Heysel memorial. Bruxelles Bianconera have sections in Brussels, Charleroi, Mons, Liege and Luxembourg. In the 2004-2005 season Bruxelles Bianconera positioned their banner in the first level of La Curva Scirea, together with their friends from Nucleo and Noi Soli. In the 2005-2006 season Bruxelles Bianconera and Nucleo have moved to the third level of La Curva Scirea.
---
Groups, Politics and Curiosities
Current groups:

Drughi, Viking, Arditi, Nucleo, 06 Clan, Noi Soli, Marche, Bruxelles Bianconera, Gruppo Homer and Assiduo Sostegno.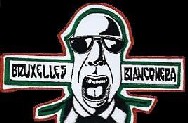 Former and historic groups:

Venceremos, Autonomia Bianconera, Panthers, Indians, Fossa Dei Campioni, La Vecchia Guardia,
N.A.B (Nucleo Armato Bianconero), Fronte Bianconero 1995, XXV Marzo, Official Fans, Feudo, Opposta Fazione, Movimento(Roma), Black and White Supporters, Area Bianconera, Drughi Kaos, Gioventu Bianconera, Arancia Meccanica (Clockwork Orange) and Black & White Fighters Gruppo Storico 1977.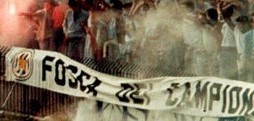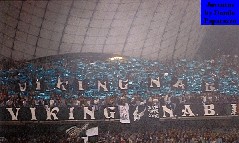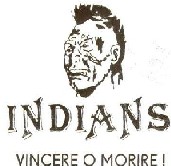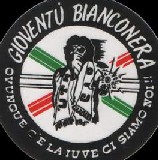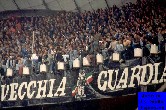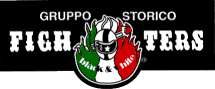 Politics:

The majority of the groups are right sided. While the first supportergroups Venceremos and Autonomia Bianconera were extremely left sided and relatively unorganized. The biggest supportergroup Fighters is right sided in politics.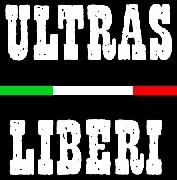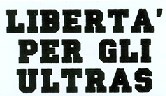 Curiosities:

In the summer of 2006 more than 20 000 Juventus supporters marched in the streets of Turin to support Juventus. The club had just been demoted to Serie B and the supporters wanted to show their support.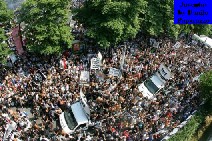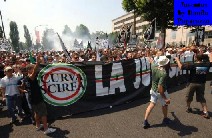 Before the game between Milan and Juventus in Oktober 2005, a group of Milan fans from La Fossa Dei Leoni managed to steal some flags from the Viking group. Viking immediately planned their revenge, so when the Milan fans came back from a Champions League game in Eindhoven, Viking got their revenge. The Fossa dei Leoni member who was in charge of carrying the banner was followed by a group from Viking in Milano. After a few kilometers a Viking member on a motorbike, which was dressed like a cop, stopped him and all the Viking members catched him and stole the Fossa Dei Leoni banner. Before the game against Livorno, Viking and Fossa dei Leoni, somehow agreed to return to eachother the stolen stuff. But the blow was so hard to swallow for La Fossa Dei Leoni, that they decided to split up after many years as the most influential ultras group of Milan.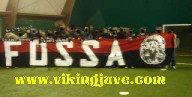 The fans welcomed the former trainer Carlo Ancelotti in a very hostile way due to his past as Milan and Roma player and Parma trainer. Slogans were written all over the city before, during and after his arrival. He made his debut in Piacenza-Juve 0-2 and in that occasion some Juve fans put on a banner which said: "Un maiale non puo allenare. Ancelotti vattene"(A pig can't be coach. Ancelotti go away).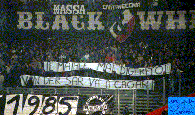 The most loved and hated name of a supportergroup was "Arancia Meccanica" which means "Clockwork Orange" in Italian. The name was chosen after "Fighters" were split in 1987 and given because of the great admiration of the movie by Stanley Kubrick. The name was really hated by the Juventus board and by the police because of the movie's violence. The group was forced to change name to "Drughi"(later "Drughi Bianconeri") name given once again in connection to the movie. Drughi was the name of the gang Alex was head of in the movie.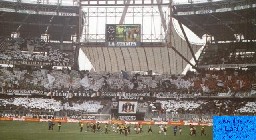 Juventus are called "La fidanzata d'Italia" which means Italy's girlfriend, because they are the most popular, but also the most hated team. This maybe because of their total domination of Italy for years and years. Juventus fans are spread all over the country, this has created several problems for organized supportergroups since the early 70's

Enzo Maresca isn't only loved by the fans because of his celebration after scoring against Torino. Maresca also made the Juventus fans proud during his loan spell with Piacenza in the 2002-2003 season. After a game between Inter and Piacenza, Maresca was involved in a heavy argument with severeal Inter players before entering his team bus. Maresca screamed to the Inter players that no matter what it was we (Juventus) who always won the title. His argument with the Inter players was very much appreciated by the Juventus fans.

Antonio Conte is another big hero of the Juventus fans. He has been popular since day one of his long spell in Turin. The Juventus fans specially remember his celebration after scoring against hated rivals Fiorentina at the Delle Alpi stadium. Conte took the corner flag and went to waive it right under the nose of the the Fiorentina supporters. Conte also received a precious present from supportergroup Fighters some seasons ago. He received a flag on which it stood: Cuore, grinta è umiltà, Antonio Conte idolo degli ultrà. Grazie Capitano!


---
The songs of the Juventus fans
---
NOI SAREMO SEMPRE QUI CON VOI
FINCHE' MORTE NON CI SEPARERA'
IN ITALIA E IN EUROPA CI VEDRAI
E NON VI LASCEREMO MAI.
NOI NON VI LASCEREMO MAI.
NOI NON VI LASCEREMO MAI.
COMBATTEREMO A FIANCO A TE!

Juve alè tifo per te
Juve alè mi hai preso il cuore
Juve alè tifo per te
Vuoi sapere perchè
Ti sosterrò ovunque giocherai
Ti sosterrò perchè ti amo sai
Se vinci se perdi puoi star sicura che
Prendo la sciarpa e corro da te
Oh oh oh oh

Finchè vedrai sventolar questa bandiera
Siamo gli ultra della Scirea
E' la Juve vincerà
Saprai quando gioca la signora
Che la curva si innamora
E' la Juve vincerà
Oh oh oh oh oh

Dai forza Juve alè canterò
Ovunque giocherai ci sarò
Perchè non c'è la squadra che
Sia grande come te
Oh oh Juve alè oh oh Juve alè

FORZA JUVE ALE'
LO CANTIAM PERCHE'
LO CANTIAM PERCHE'
DA SEMPRE NEL MIO CUORE
CI SEI SOLO TE
JUVE ALE'
LO CANTA LA SCIREA
LO CANTA LA SCIREA

QUESTA E' LA VOCE DEGLI ULTRA'
E DALLA CURVA SI ALZERA'
UNA CANZONE CHE FARA' TREMAR
LA TERRA E IL MAR
ALE' ALE' LA JUVE ALE'

MI RICORDO UNA VECCHIA CANZONE
CHE CANTAVANO SEMPRE GLI ULTRA'
NON RICORDO LE VERE PAROLE
MA FACEVA:LA LA LA LA
LA LA LA LA

TORINO MA CHE BELLA CITTA'
TORINO E' LA NOSTRA CITTA'
TORINO E' BIANCO E NERA
E BIANCONERA PER SEMPRE SARA'

QUANTO TU, PASSERAI DI QUA
SENTIRAI LA SCIREA CANTAR
PROVERAI UN BRIVIDO NEL CUOR
CANTERAI PER SEMPRE
JUVE DAI NON MOLLARE MAI
JUVE DAI NON MOLLARE MAI
JUVE DAI NON MOLLARE MAI
JUVE ALE' LA LA LA …

CANTEREMO FINO ALLA MORTE TUA
INNALZANDO I NOSTRI COLORI
E CHE CI VIEN DAL PROFONDO DEL CUORE
ALE' LA JUVE ALE'
ALE' LA JUVE ALE'
ALE ALE ALE LA JUVE ALE'
ALE LA JUVE ALE'

SEGUIAMO LA JUVE
DA TUTTA LA VITA
E SEMPRE PIU' GRANDE CI APPARE
QUESTO SQUADRONE
CHE ANCORA OGGI CI FA GODERE
DA NAPOLI A BRESCIA
DA ROMA A MILANO
IN TUTTI GLI STADI NOI ANIDAMO
MAGICA JUVE MAI DA SOLA NOI TI LASCIAMO
A IA IA IAI, MAGICA JUVE
RESISTE IL MIO CUORE LONTANO DA TE
SOLTANTO SE PENSO ALLA FIGA
AIA IA IAI MAGICA JUVE
E TUTTA LA CURVA LO CANTA COL CUORE
JUVE MIO GRANDE AMORE.

QUAND'ERO UN BAMBINO
SOGNAVO DI ANDAR
IN CURVA SCIREA
CON GLI ULTRAS A CANTAR
ADESSO CRESCENDO
HO CAPITO CHE
NON BASTA CANTARE
BISOGNA ANCHE SALTAR
SALTA SALTA SALTA CON GLI ULTRA'….

Ovunque voi giocate
noi ci siamo
la gente si domanda
ma chi sono
e noi glielo diciamo
chi noi siamo
Siamo l'Armata Bianconera
e mai nessun ci fermerà
noi saremo sempre qua
se la Juve giocherà
forza Juve vinci ancora per gli Ultrà!

CHI SIAMO NOI... la Juve!
CHI SIAMO NOI... la Juve!
CHI SIAMO NOI... la Juve!
e gireremo tutte quante le città
ovunque andremo mai nessun ci fermerà!
Lalalalalalala, noi siamo la Juve...

Noi siamo quelli della Sud
e non vi lasceremo mai!!!

Amo soltanto te
magica grande Juve
comunque vada tu saprai
non ti lasceremo mai...
Amo soltanto te

Juve alè, lo canta la Scirea
Juve alè, lo canta la Scirea
forza Juve alè, lo cantiam perchè
da sempre nel mio cuore ci sei solo te!

Torino, ma che bella città!
Torino, è la nostra città
Torino, è bianconera
e bianconera per sempre sarà!

Tutti avanti eh eh
tutti indietro oh oh
tutti a destra eh eh
tutti a sinistra alè alè
forza Juve eh eh
forza Juve oh oh
forza Juve eh eh
forza Juve alè alè...

DIVERTITI ANCHE TU DAI VIENI IN CURVA SUD
ACCENDI LA PASSIONE E SPEGNI LA TV
NOI SIAMO QUELLI CHE COMBATTONO PER TE
AMICI DI NESSUNO PER NOI C'E` SOLO LA JUVE

Dalla francia è arrivato e ci ha subito incantato,
dalla sua testa pelata e la scirea i è'innamorata
trezegoooool trezegoooooool!!!!canteremo tutti quanti trezegoooool

Sono sempre al tuo fianco,
io di te non mi stanco,
sei la cosa più bella che c'èèèèèèè
ALESSANDRO DEL PIERO ALEEEEE'
ALESSANDRO DEL PIERO OLEEEEEEE',
ALESSANDRO DEL PIERO, ALESSANDRO DEL PIERO,
ALESSANDRO DEL PIERO OLEEEEEE'!!!!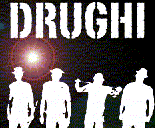 ---
Back to main page

Copyright: Danilo Paparazzo.