Allies and Enemies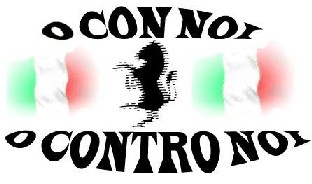 ---
Allies
---
FC Den Haag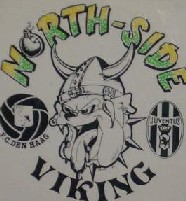 ---
Legia Warszawa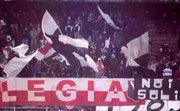 ---
Enemies
Anti England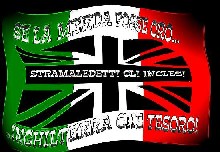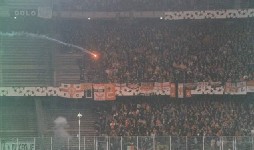 It must hurt that England invented the football game, but have only one World Cup trophy in 1966 to show for. When England won the world cup colour TV had not been invented. In 76 years of World Cups England have only made one final. There has always been rivalry between Italian and English supporters. The situation deteriorated after the Heysel tragedy in 1985. Since then every game between Italy or England, or Italian clubs and English clubs is dangerous. In the 2002-2003 season both Newcastle and Manchester United played at the Stadio Delle Alpi and the song "ENGLISH ANIMALS" could be heared for almost the entire games.


---
Anti Liverpool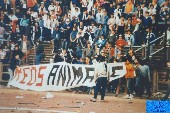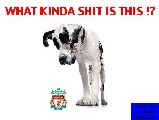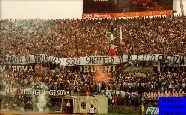 The hate between these two teams started after the Heysel tragedy in 1985 were 39 Juventus supporters were killed. Many have wondered what will happen if these two teams meet again. Certainly some Juventus fans will look for revenge and it would be a very dangerous game with high risk of violence. Meanwhile there are also rumours about a friendship between part of these two supportergropups. For every Liverpool game beeing played at Anfield you can always see at least one Juventus flag in The Kop. There are Juventus flags and scarves at most Liverpool matches. Probably it is a peace offering symbol, their way through TV pictures, of showing that they care about the victims of Heysel. A couple of seasons ago, two big flags of Juventus were displayed by The Kop with an apology for Heysel in italian.
---
Anti Toro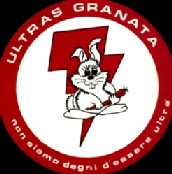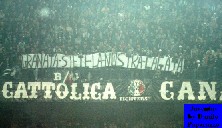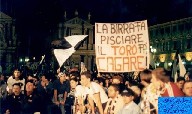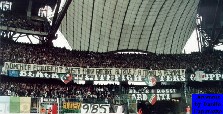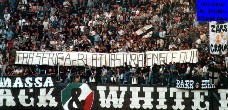 The Juventus fans have named the Toro fans for "Mulita". The Ultras started organizing in the 1970's and there has been violence between the two sides of Turin ever since. The Turin derby is called "Il derby della Mole", and there has been few derbys without any violence. Now Torino is stuck in Serie B, how long do we have to wait before we can beat them again?







Enzo Maresca became the hero of the fans after he scored the late 2-2 equaliser in the 2002 Torino-Juventus derby. Not only did Maresca score a fine and important goal, but his celebration after scoring will be remembered by the Juventus fans forever. He ran over the entire pitch making the sign of the bull with his fingers. Torino F.C, called "Il Toro", has had a tradition of celebrating in this manner, and Maresca's gesture was considered a serious offence by the Torino fans. Therefore Maresca naturally became the hero of the Juventus fans.



Oh granata topo di fogna
di Torino sei la vergogna
la vostra massima aspirazione
festeggiare la promozione
noi in Europa giochiam lontano
voi al massimo ad Orbassano
da troppi anni cercate gloria
solo Superga vi ha fatto storia
quando torni dal purgatorio
sogni sempre acquisti d'oro
ma alla fine la storia vera
che Turin al'è bianca e neira!

Lalalalalalala lalalalalalala
noi cantiamo così
lalalalalalala
toro merda in B
lalalalalalala
era meglio se
ve ne stavate a casa!!

Sono cento anni che
ve lo prendete nel culo..
toro toro vaffanculo..toro toro vaffanculo

Oh oh oh
oh oh oh
lalalalalalala lalalalalalala
ma che cazzo ci sta a fare il toro in A?

Lalalalalalala lalalalalalala
tu quel giorno lì
lalalalalalala
eri all' Autogrill
lalalalalalala
era meglio se
ve ne stavate a casa!!


---
Anti Viola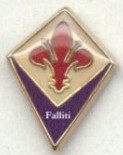 The hate between Juventus and Fiorentina fans go back so long that nobody can remember when it really started. For every game between these two teams there are many thousand police officers in the stadium, and always some violence outside and inside the stadium. The Juventus fans hate the ultras from La Curva Fiesole in Firenze more than anything else. Therefore the day when Fiorentina were relegated to Serie C2 was a fantastic day for the Juventus fans.

Il viola è il colore che odio
è quello che odio di più
gli sterilizziamo le donne
così non ne nascono più
Firenze è una patria di infami
la odio da sempre perchè
i viola non sono Italiani
ma sono una massa di ebrei

To the notes of TEQUILA

I VIOLA STANNO FALLENDO
E CECCHI GORI CHE COSA FA
SI TIRA LA COCAINA
E LA MARINI SI VUOL SCOPAR
OH FIORENTINO
CHE DELUSIONE,RETROCESSIONE
COL PISA TU GIOCHERAI

Che grande gioia ogni mattina
pulirsi il culo con la sciarpa fiorentina
di zeffirelli e di pontello
usiam le foto per pulirci anche l'uccello
e da Torino anche stavolta
voi ve ne andrete solamente con la scorta
con le parole siete leoni
ma fate sempre la figura dei coglioni
e viola merda viola viola merda
e viola merda viola viola merda!!!

Un solo grido
un solo allarme
firenze in fiamme
firenze in fiamme!!

Ma quale A?
ma quale B?
la fiorentina in serie C!!!

Viola di merda
Sei solo un Viola di merda
Viola di merda
Sei solo un Viola di merda

Quella curva di conigli
che sognava il tricolor,
nuovi acquisti per l'Europa,
cantavate Bati-gol.
Cecchi Gori e Aldo Agroppi
sono i vostri nuovi eroi,
tutta Italia ha goduto,
ma nessuno come noi.
Eravate quasi salvi
Desideri poi segnò
siete andati in serie B
noi non ci crediamo ancor!
Scappa scappa fiorentino,
anche a Monza in serie B
Noi abbiamo vinto tutto,
ma goduto mai così!
Viola merda alè alè,
Viola merda alè alè...


---
Anti Inter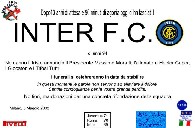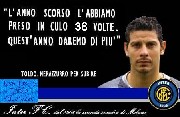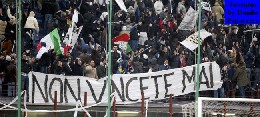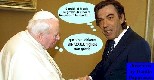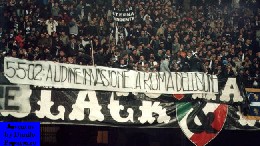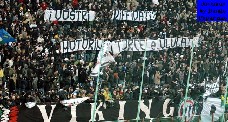 This is the only way Inter will win the scudetto, typical Inter to tell there fans to celebrate a title they actually finished third in. The allegations against Juventus have nothing to do with the season 05-06, only the 04-05 season was corrupt and it was fair enough to strip Juventus of that title, and yet Inter were handed the 05-06 title when they finished third. Juventus may have had there titles stripped away but they are still champions on the pitch. How a club like Inter with so much money and power cannot seem to win a major title in 17 years is incredible! Well, Inter finally have the scudetto but somehow the table shows they finished third.
Inter continually field a starting eleven with not one italian in the team. Inter had only one italian player in the national team that won the World Cup, that shows how italian that club really is.
Juventus and Inter were the only two teams in Italy who had always played in the Serie A, therefore the games between them is called "Il Derby d'Italia". Because of the short distance between Turin and Milan, there are always thousands of away fans when they play each other. Violence has occured many times before, during and after their matches. The hate between them has gotten worse the last 10 years when the two teams have battled each other for glory in Italy. Fiorentina and Inter are probably the most hated teams for the Juventus fans. Juventus fans enjoy the fact that Inter haven't won "Il Scudetto" since the 1980's and the 5th of May 2002 was a great day for the Juventus fans.

E il 5 maggio, è andata male
a Moratti e tutta l'Internazionale
voi tutti a Roma, già pensavate
di esser campioni ma non vi ricordavate
che lo scudetto si vince a maggio
e non a luglio con il solito miraggio
e mentre ronnie se la piangeva
c'era la Curva bianconera che godeva
e che pensava, a voi interisti,
laggiù a Roma con le facce tutte tristi
oh neroazzurro, sai che facciamo
alziam le mani e tutti insieme noi cantiamo
eh inter merda inter inter merda

L'interista chiacchierone
sogna sotto l'ombrellone
tricolore coppe varie
ma a settembre il campionato inizierà
e come l'anno scorso
e come l'anno prima
il nostro chiacchierone
continuerà a sognare
quel tricolore che non vincerà!!

Per sempre ti odierò
in tutte le città
ci sentirai cantar
questa canzone...
inter, quanto ti odio
inter, quanto ti odio
inter, quanto ti odio
inter, quanto ti odio
ohhhhh....

Sono anni che
ci speravi ma
lo scudetto tu
non lo vinci più
inter merda ale inter merda ale

Un interista in croce
urlava ad alta voce
o mammma mamma mamma
di chi son figlio io
La mamma le rispose
alzando la sottana
o interista caro
sei FIGLIO DI PUTTANA !!!!

L'INTERISTA DIVENTA PAZZO PERCHE' NON VINCE MAI UN CAZZO

IL 5 MAGGIO 2002 ORA LE DATE PER CANTARE SONO 2,
SI E' RISVEGLIATO L'AZZURRO E NERO CHE AL TRICOLORE CI CREDEVA PER DAVVERO,
PARTITI IN TRENO BANDIERE IN MANO FAN FINALMENTE UNA TRASFERTA OLTRE MILANO,
NELLA SUA CURVA E' TUTTO A POSTO PERCHE' HAN SCORDATO IL NOSTRO CORO LUGLIO-AGOSTO,
RONALDO PIANGE DIVENTA PAZZO PERCHE' CON L'INTER NON SI VINCE MAI UN CAZZO,
E ARRIVA IL FISCHIO DI PAPARESTA MA E' IN CURVA SUD CHE SI SCATENA LA GRAN FESTA,
PERCIO' RICORDA TIFOSO PIRLA, DI FARE L'ULTRA E' PROPRIO L'ORA DI FINIRLA,
E' DA UNA VITA CHE LO DICIAMO LA VOSTRA SQUADRA E' LA ROVINA DI MILANO,
14 ANNI DI UMILIAZIONE E LUGLIO-AGOSTO RIMARRA' IL TUO TORMENTONE,
E ADESSO PIANGI INTERISTA MALEDETTO PERCHE' HAI NEL CULO E NON SUL PETTO LO SCUDETTO.

Cambierete gli allenatori...
dirigenti e giocatori...
ma una cosa mai cambiera'...
questo coro che da sempre fa'...
NON VINCETE MAI
NON VINCETE MAI
NON VINCETE MAI
NON VINCETE MAI


---
Anti Roma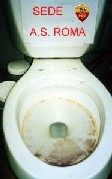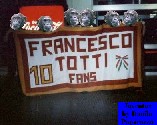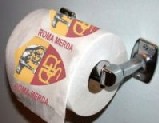 Juventus and Roma fans have always been enemies, especially when they have battled each other for glory in Italy. There were particularly much violence in the beginning of the 1980's. There are always many away supporters when they face each other, so there's always danger in the air during these matches. Also the two clubs hate each other. And Roma president Franco Sensi and Juventus board member Luciano Moggi often battle it out in interviews, radio and TV.

Braindead Romans attacked their own squad in March 2005. The Roma supporters have done many stupid things over the last years, but this time they probably set a new personal record. When the bus carrying the Roma players arrived to the stadium before the game between Roma and Juventus, the intelligent Roma supporters thought it was the Juventus bus and therefore attacked it. The idiots threw everything they had against the bus until they realized it was their own players sitting inside it. The coward Romans also stabbed five young Juventus supporters in a a parking lot before the game. The five were all transported to the hospital, and all five recovered.

La storia ci insegna che
la lupa romana è
un cane bastardo che muore allattando
quei figli di troia alè!

Se la Roma è magica..
Cicciolina è vergine..

E LE ROMANE... PUTTANE PUTTANE PUTTANE.
E I LORO FIGLI... CONIGLI CONIGLI CONIGLI.

ROMANOOOO
ROMANOOOO
CI SENTIIIII ???
CI SENTIIIII ???
PEZZO DI MERDAAAAAAAA
E IL ROMANO E' UN FIGLIO DI TROIA


---
Anti Milan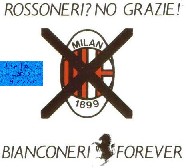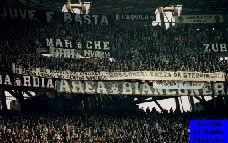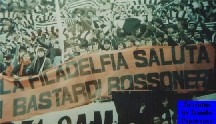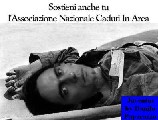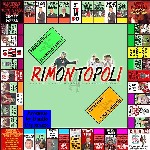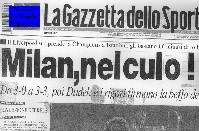 Juventus and Milan fans hate each other as well, but maybe not so much as Juventus and Inter fans. Juventus and Milan fans impressed all Italy and maybe the rest of the world, when they faced each other in the Champions League final in Manchester in May 2003. They met each other for days, but behaved very good without any violence in the city or in the stadium. The rivalry between them was particularly strong in the beginning of the 1990's when Milan won everything in Italy and Europe.

Mi ricordo Istanbul festeggiare il Liverpool
Rossonero ti eri illuso
Poi gli inglesi ti han deluso
Eravate sul 3 a zero poi a 1 a 2 a 3
Quando dudek ha ballato
Ancelotti era disperato
Gli sta bene a quel pelato
E a quel nano lassù in tribuna
La tua scusa è sempre quella
Abbiamo avuto solo sfortuna
Ma alla fine quello che conta
E che il Liverppol te l'ha tolta!
Rossonero non t'incazzare
L'importante è partecipare
Milan merda alè alè Milan merda alè alè

Perchè perchè nel primo tempo vincevamo 3 a 0
è alla coppa ci credevamo per davvero
Perchè perchè
3 a 1, 3 a 2, 3 a 3

In Europa campione, In Giappone coglione
Milan merda
Milan Milan merda

A MANCHESTER CON IL CULO...
A YOKOHAMA CON LA BOCA !!!!

Rossonero.............
Rossonero.............
Ci senti.........?????
Ci senti.........?????
PEZZO DI MEEEERDAAAA.........
PEZZO DI MEEEERDAAAA.........
ROSSONERO PEZZO DI MERDA
ROSSONERO PEZZO DI MERDA
ROSSONERO PEZZO DI MERDA

NON E'BRASILIANO PERO'...
E' ZIINGAROOOOO
I GOAL COME CAZZO GLI FAAA...
SHEVAAAA MERDA SHEVAAA MERDAAA
LALALALALALALALA SHEEEVA MEERDAA SHEEVAA MERDAAA

Vai in Europa,ti porti la Mitropa...
Fai lo spaccone,ti fotto lo striscione...
Guardi in panchina,sembra un maiale vero...
il PORCO VERO,è QUELLO ROSSONERO!!la la la la la la la la la la

SE VAI IN EUROPA TU PENSI ALLA MITROPA
SE FAI IL LEONE TI FOTTON LO STRISCIONE
PER UN RIGORE TI SENTI GIA' CAMPIONE
PERO' NEL SANGUE HAI LA RETROCESSIONE
E MILAN MERDA ALè LALALAALLALALA

ALL'INTERISTA SAI CHE DICO
IL ROSSONERO NON E' MIO AMICO
COME TE ANCHE TUO CUGINO
STA SUL CAZZO AD OGNI JUVENTINO
CON I SOLDI DEGLI ITALIANI
FA GLI ACQUISTI IL VOSTRO GALLIANI
ALTRO CHE PADRONI DELL'INFERNO
SIETE SERVI DI QUESTO GOVERNO
OH BASTARDO DI UN MILANISTA
SARAI IL PRIMO DELLA LISTA
COME PURE IL GRANATA E VIOLA
TANTI INFAMI MA UNA MERDA SOLA
MILAN MERDA ALE
MILAN MERDA ALE


---
Anti Triade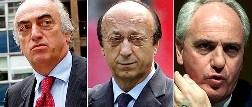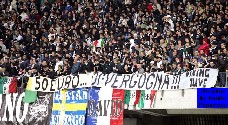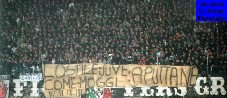 The Juventus fans are furious against Juventus director Antonio Giraudo. The main reason is his plans for the new stadium were the fans will have to sit, and were there will be new and strict rules impossible for the ultras fans to respect. The fans are also angry that so little is done to make more people come to the stadium, discounts, marketing, promotions etc. The fans think that the Juventus directors care little about if people come to the stadium or not. The important thing for them is all the money they receive from the TV-rights. The fans are specially angry about a sentence that Giraudo said to the press in the 2003-2004 season: "In Athens there were only 17 Juventus fans, but we still won". What does that mean? That the support from the fans doesn't count? Some fans think that the reduced capacity was decided long ago, and that the directors have raised the prices so that fewer people go to the stadium, and therefore can't complain about the reduced capacity. The Juventus directors have raised the cost of the prices this season. Is that the way to bring more people to the stadium? In fact thousands of Juventus fans didn't renew their season tickets this summer. The cheapest season ticket this season(Curva Scirea and Curva Nord) costs 220 Euro, compared to 150 Euro two seasons ago!. The Juventus directors spend a lot of time on marketing, but they have never marketed anything to bring more people to the Delle Alpi stadium. The cheapest single ticket for the stadium this season costs 25 Euro, compared to 15 Euro last season. The cheapest ticket for the big matches costs 35 Euro. In the game against Udinese the 9th of November 2003 the fans protested against Giraudo by beeing silent for the entire first half. Giraudo hasn't understood that football would be nothing without the fans.



Luciano Provenzano oh oh oh oh oh
Luciano Provenzano oh oh oh oh oh

Giraudo!
Giraudo!
Ci senti?
Ci senti?
Pezzo di merda!
Pezzo di merda!
Giraudo sei un pezzo di merda!
Giraudo sei un pezzo di merda!
Giraudo sei un pezzo di merda!

Giraudo e un granata io no io no
Giraudo e un granata io no io no
Giraudo e un granata io no io no
Giraudo e un granata io no io no

Giraudooooo......
Giraudooooo......
Ci sentiiiiii???......
Ci sentiiiiii???......
LA JUVE SIAMO NOOOOOI,
LA JUVE SIAMO NOOOOOI,
LA JUVE SIAMO NOOOOOOI!!!


---
Anti everyone



E' la Juve è...
qualcosa che più ce n'è meglio è!
Bianconero è il colore che portiamo noi
non ci fermerete certo voi...
BASTARDI!!!


---
Back to main page

Copyright: Danilo Paparazzo.